Huddle for Change Is a Six-Part Series that Includes Programs on Health, Education, and Justice to Dismantle Systemic Racism and Racial Inequalities
January 11, 2021 (St. Petersburg, Fla.) – In partnership with the Tampa Bay Super Bowl LV Host Committee, NFL's Inspire Change initiative, and the NFL Foundation, Community Tampa Bay is pleased to announce the fourth installment of "Huddle for Change" is set to take place virtually on Tuesday, February 8, 2022, at 12-1:30 pm.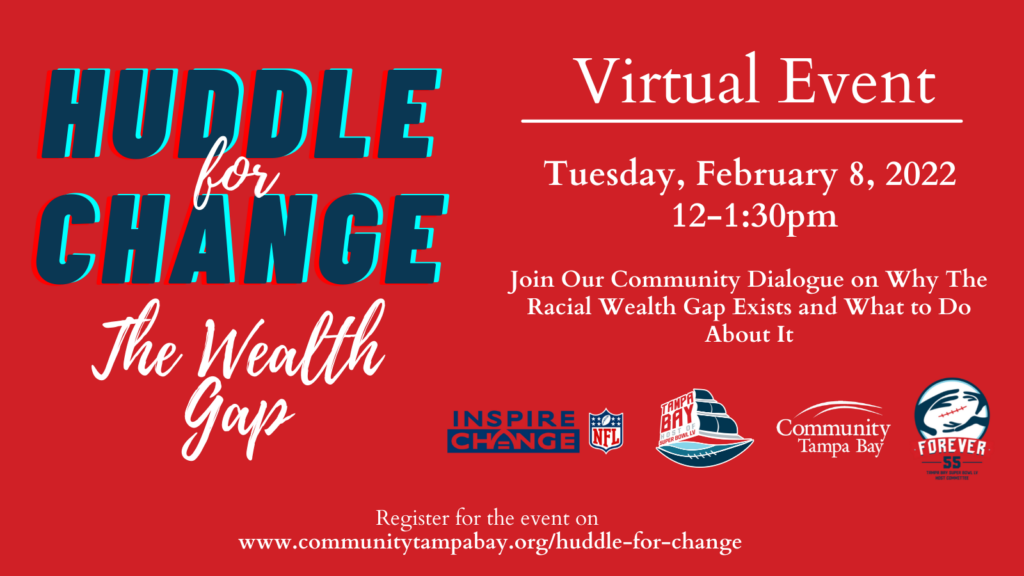 The focus of the upcoming community dialogue will highlight the crucial factors of why the racial wealth gap exists and what we can do to bridge it. Those interested in attending the virtual event can click here to register for free.
"Our open and honest community conversations provide an opportunity to not only more deeply explore race equity related to the five topics but also to craft individual and community actions to mitigate inequities and build a more inclusive community where everyone has a chance to prosper," said Tammy Briant Spratling, CEO Community Tampa Bay.
Huddle for Change is a community-wide dialogue between various community members. The evidence-based programming will draw from recent studies by the Tampa Bay Partnership, including the Tampa Bay Racial Sentiment Survey and Regional Equity Report conducted by Down & St. Germain Research. Community Tampa Bay will partner with local credit unions and financial institutions to discuss the data finding, their own lived experience, and important foundations of understanding of the racial wealth gap for our community to take proactive actions towards dismantling wealth inequality in Tampa Bay.
About Community Tampa Bay
Community Tampa Bay is a non-profit organization that envisions a community free of all forms of discrimination in which every individual is treated with dignity and respect, with regard to their race, ethnicity, nationality, sex, gender, sexual orientation, socio-economic status, ability, faith, and or age. Community Tampa Bay works towards the ambitious vision of cultivating inclusive leaders to change communities through dialogue and cross-cultural interactions, empowering individuals to build relationships based on understanding and mutual respect.