2023 Youth Service Leadership Summit
"Life's most persistent and urgent question is,
'What are you doing for others?'"
-Dr. Martin Luther King, Jr.
The Ryan Nece Foundation, Community Tampa Bay, and Frameworks of Tampa Bay invites you to join us Monday, January 16, 2023 at ZooTampa for our 3rd annual Youth Service Leadership Summit. This event is open to all Hillsborough, Pasco, and Pinellas County teens aged 14 to 18 years old.
The mission of our Youth Service Leadership Summit is to help build, shape, and mentor the next generation of servant leaders in our community, by engaging high school students in a morning of community service, followed with an afternoon of leadership education with talented speakers.
---
Overview of the Day
Between 7:00 a.m. and 8:30 a.m. - Service Projects Start
(learn more here)
11:30 a.m. - Leave Service Project for ZooTampa 12:00 p.m. - Lunch 1:00 p.m. - Service Learning Discussion 2:00 p.m. - Keynote with
@TrashCaulin
3:00 p.m. - Hosting Nonprofit Remarks 4:00 p.m. - Team Building Games and Activities 5:00 p.m. - Dinner 6:00 p.m. - Dismissal
---
Meet Our Keynote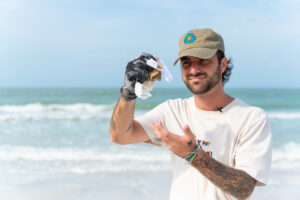 On the surface,
beach
clean-ups
aren't that charming. But dig a little deeper and beneath the surface, you might find more than just trash – you might find a little inspiration, thanks to Caulin Donaldson.
@TrashCaulin is a TikTok creator and eco activist known for his daily trash cleanups. He gained a following of over 1.6M followers by blending activism, education, and entertainment.
---
Scroll Down to Register Now